I'm Stuart Tevendale, a cyclist, photographer, writer and software developer.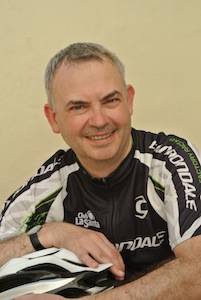 Cycling
I'm a life-long cyclist, having started cycled back and forth to primary school in my local village. I've raced in Europe, competed in triathlons and completed several half- and full marathons. These days, it's mostly sportives and other non-competitive events that I take part in, although I'd never rule out a triathlon comeback!
Photography
I've been a photographer since my school days where photography and basic darkroom work were taught as part of art class. Those classes ignited my passion for photography, which has continued to this day. At the end of 2020, I got a DJI Mavic Air 2 drone.
A few of my images are here and some of them are for sale in my Picfair Gallery: http://stuarttevendale.picfair.com
Writer
I've spent a large part of my working life as a writer, mainly in technical documentation, but also writing for magazines & blogs (such as this one!). For details of my professional writing, see my Linkedin Profile.
Software Developer
Over the years, I've developed a number of software applications, including iSMARTtrain, GarminBackup and MyZones. More details of my Apps are here.