Up in my part of the world, training outside in the evenings (and some days) is pretty difficult between October and April. During this period, I rely on my Turbo trainer for cycling fitness. I'm lucky enough to have a dedicated room for my training, albeit in our outbuilding.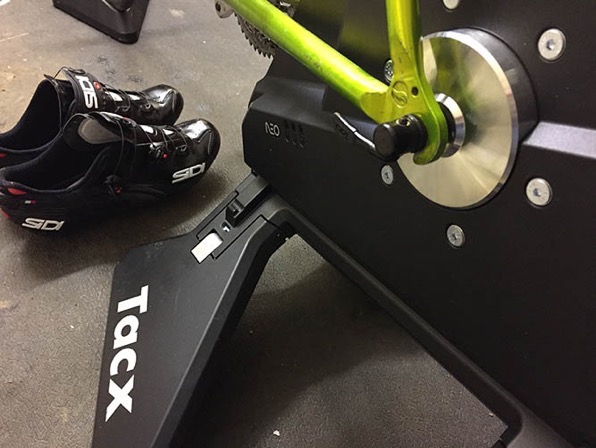 Neo Trainer
Late last year, I upgraded by mid-2000's vintage Tacx Flow to a Tacx Neo. The Neo is a direct-drive trainer, meaning that the bike connects directly to it, rather than the bike's rear wheel resting on a roller, like in a traditional turbo trainer. My last trainer did have controllable resistance, but it was from a time when few trainers had a computer connection. Having the trainer controller by the software has made a big difference to my experience on the trainer.
Zwift
Since I got the Tacx Neo I've been using Zwift. Prior to this, for the past couple of winters, I've used the Sufferfest, first just the videos, then the app once that was released. While the sufferfest provides a good workout, it didn't provide anything for unstructured, 'just cycling along' days. With Zwift, there's the option to just cycle the roads of the worlds they provide.
Of course, the latest Sufferfest provides much more than just training sessions, providing yoga and weight training sessions as well.
There's a number of VR-type cycling apps on the market now, including Bkool, Road Grand Tour and others. Zwift works well for me, and I'd rather spent my time training, then trying out other apps. For a good review of the various options, have a look at DCRainmaker's trainer software review.
Computer/Keyboard/Monitor/Adaptors
I'm using my main laptop, a 2018 Macbook Pro, along with an Apple keyboard (MB869LL/A). The keyboard has two USB ports, one at each end. Into one I've plugged a cheap mouse, and to the other, a Suunto ANT+ adaptor. The Macbook needs to have a keyboard connected to run in clamshell mode (i.e., lid closed). Although a Bluetooth one will work, I used a wired one as it allows me to use a cheap mouse and also provides a port for the ANT+ dongle. I've also got an additional power adaptor for the laptop to save having to drag one out every time I'm training.
I've got a BenQ 21" monitor (GL2250HM) that I picked up cheap on Amazon, and a stand to hold the laptop vertically so that it takes up less space on the worktop (the unit is an old kitchen unit from our house). A plethora of USB-C adaptors are used to connect these – I swear the adaptors cost more than the laptop!
WiFi is provided by a TP-Link PowerLine adaptor connected back to the Internet router in our house.
I've got Honeywell fan from Amazon which sits on the desk to provide some cooling airflow. To control the fan (only On/Off), I've got an Eve Homekit switch – this means I can turn the fan on and off without having to dismount from the training, using an app on my iPhone. In the winter, it's a bit too cold to have the fan on from the start of the session, and I usually need 10 -15 minutes warming up before it goes on.
On the bike, I'm using a Tacx Sweat Cover with an iPhone pouch on it. In Zwift, there's a companion app that runs on iOS and lets you control aspects of Zwift without using the mouse or keyboard. I also use the iPhone to control my fan.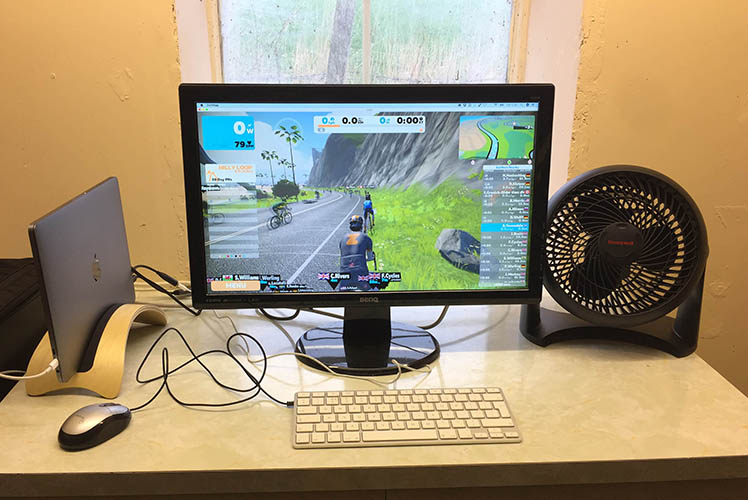 Performance
The setup works very well. However, looking the zwift logs in zwiftilizer.com, it looks like the distance between the Neo and the ANT dongle might be on the limit, as the log files show some dropouts, although I haven't noticed this either when using zwift or in the .fit files when reviewing at them later. This may also be due to the TP-Link WiFi base being too close to the ANT dongle as both of these work on the 2.4 GHz frequency. I probably need to check exactly what channel the WiFi is using as well, as it's recommended to uses channels 1-5 to avoid interference with ANT+ and to definitely avoid Channel 10, as it's exactly the same frequency that ANT uses. Using 5 GHz WiFi is also an option, although I don't think my current TP-Link unit supports that.
With my 2018 Macbook pro, I'm getting 60 frames per second on average, using the 720 & basic settings in Zwift. I need to experiment with higher settings, but I always forget to do this before starting the Zwift session!
Conclusions
The change to using a Neo and Zwift has certainly enhanced my training this winter. If nothing else, it's motivated me to training more often, which can only be a good thing. Getting the environment right also reduces the friction to getting going for a session.