Fare Challenge Half-Marathon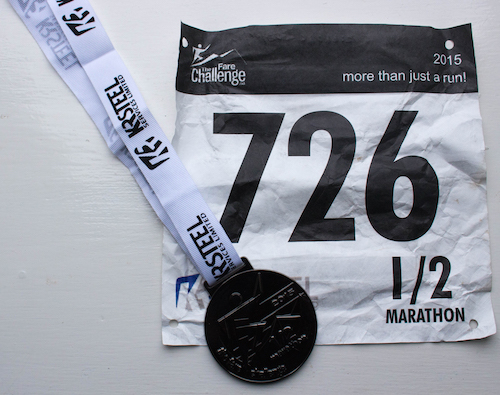 On Sunday, I ran my first half-marathon for nine years, the Fare Challenge. The event is an off-road race, held on the Hill of Fair at Raemoir, near Banchory, in Aberdeenshire. It was also the first time I'd raced off-road. There were 5k, 10k and half-marathon distance events on at the same time, all of them initially following the same route.
Coming into the race, my training hadn't been up to the volume I'd have liked, having only had 4 runs since the Baker-Hughes 10k in May, the longest of which was 11km. I had toyed with the idea of swapping my entry for a 10k one, but eventually decided just to give the half a try.
Prior to the start, I met with a couple of old friends who were doing the 10k route. The general consensus was that the 10k route was about 15 minutes slower than a road run, and the half route was about 30 minutes slower. My last half marathon time was about 2:10, and, given my limited training, I'd be happy with 2:40 for this race.
I lined up at the start towards the back, as the 5k and 10k was also starting at the same time. The route led away from the start into the surrounding woods and immediately started to climb. The previous night's rain meant that the track we were running on were quite muddy. The first 5km were a continuous climb  up to the highest point of the route at about 450m. At that point, we were clear of the trees and the route led around the hill on fairly wide landrover tracks.  After an out-and-back section at 12 km, we moved onto a single track and descended towards the finish. The finish line was visible from the 12 mile marker, but the route cruelly went back up the hill a short way before descending to the finish. I crossed the line in 2:42:58, pretty much as predicted.
It's a great race – certainly the longest run I've done for a long time, possibly ever. I'll pencil it into my race calendar for next year. One slightly disappointing note (and not the fault of the organisers) was the number of gel packets littering the route – if you can carry the gels, then you can carry the empty packets back with you – it's not hard.