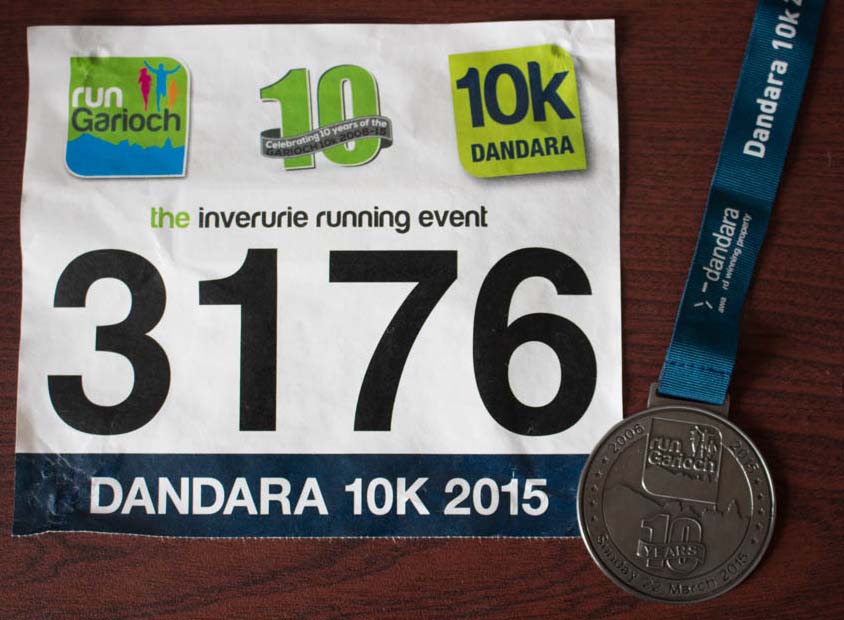 Today was the tenth running on the Garioch 10k. I've taken part in a couple of the previous events, my last one being in 2013.
The race is based in Inverurie, about 15 miles from my house. The weather wasn't great for today's race, but it was better than two years ago, when the course for the half-marathon event had to be altered beacuse of snow and the temperature was about 2 Deg C with a -7 Deg Windchill! At least it was only raining today and about 6 defgress.
Coming into the race, I'd had the feeling that I could have a good race (for me) – the previous weekend, I'd run a 1 hr 10k in training, only pushing the pace for a couple of stand-alone kms.
I wasn't too sure what the wear, given the weather, but I settled for shorts and a long sleeve 2XU top with a short sleeve Nike top over it – I thorught that tights would be too hot and a rain jacket would just get too sweaty at race pace.
After a queue for the porta-loos, where I saw a couple of old workmates who were doing the half-marathon, it was time to line up for the start – I seeded myself in the 50 minute group.
The first part of the run takes you through Inverurie towards the hospital, and then turns out into the countryside past the Polinar dam at the 4 km mark. I'd managed to keep a fairly good pace to this point, slowing only for the climb. From there, there's a slight climb up to the water station at 5 kms, then a descent as the route returns to Inverurie. At the 7 km point, the route passed the starting point at the Garoich sports centre. At this point, my watch read about 36 minutes, so I knew I was one for a good time, unless times went badly wrong.
Once the route returns to the sports centre, it winds its way thorught a housing estate for 3 kms before the finish – there's quite a long hill in this portion where my pace slowed down a bit, before recovering as the route descended, and then returned to the finish.
Final time was 52:47, about 5 minutes quicker than my last outing in 2013, and probably my quickest 10k since 2000. I'm more than pleased with that result!