Baker-Hughes 10k 18th May 2014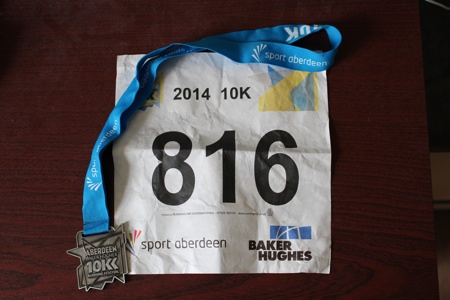 Coming the day after the KoM sportive, I knew this race wasn't going to produce any PBs! I've run this race many times since my first attempt in 1991. It's route has changed since the early years, and it's now based around the beach area of Aberdeen. The route takes the runners from the Beach Boulevard, though the harbour to the south end of the beach. From there the route runs along the beach front, joining King Street and passing back thought Seaton and past Pittodrie football stadium. The last km has a climb up past Trinity Cemetery on Park Road, then it's flat down Urquhart Road to the finish at the beach.
I seeded myself in the 55 min – 60 min group at the start with the view that this would probably stop me going off too fast and suffering later. As soon as the race started, it was obvious that my legs were still pretty tired after the previous day's efforts. I managed to hold a 5:50 – 6:00 pace. Once I'd make my way through the harbour and onto the beach front, I managed to settle into a more even pace. Thankfully, the always-present wind on the beach was a tailwind this year! After I'd turned onto King Street, at about the 7 km mark, things started to go downhill – I cheered myself with the thought that it was only 3000 m to the finish. At the 9 km mark, the route starts to rise up as it passes the graveyard – it's not a long or particularly steep hill, but, at the point in the race, it's certainly feels like it is! At the top a quick glance at my watch told me I still had a chance to finish in under the hour, so I upped the pace and completed the race in 59:25.
I've finished this race considerably quicker in the past (48:xx in the 90's) and 52:07 at my last attempt in 2011. Both of these were without having had 4 hours in the saddle the day before. Considering that I was pretty satisfied with my result.