Time:

14-Jul-19 10:32 am

Duration:

03:37:44

Distance:

63.14 km
The Methlick Cycle Challenge has been going for a few years now, initially as a ride from Ballater to Methlick and more recently as a ride based in Methlick itself. The ride offers 66-mile, 44-mile and 20-mile options.
This was the first time I'd attempted the event, and I opted for the 44 mile distance. The event was billed as part on, part off-road, and I wasn't sure what to expect. Looking at the route map, there were few parts of the route I was familiar with, apart from 10-or-so miles on the old Buchan railway line. I'd opted to use my mountain bike, a 1992-vintage Trek 7000, later fitted with suspension forks (these weren't a common thing on mountain bikes in 1992).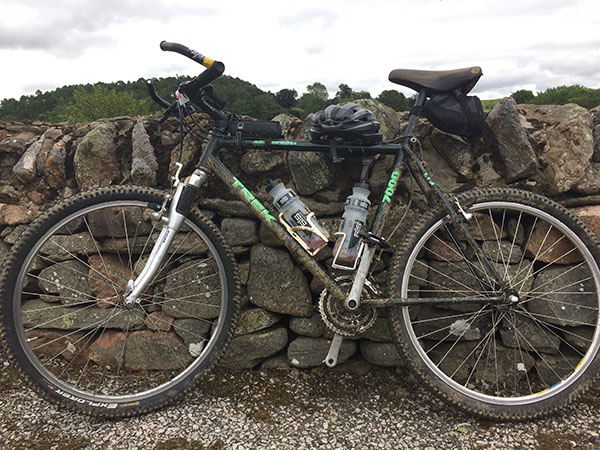 After arriving at the start a bit later than I'd have liked, due to car problems, I signed on and rushed down a bacon roll. After a quick toilet break, it was time to line up. After a quick briefing, we set off along a track that followed the south side of the River Ythan. At the end of the trail, we crossed the river back onto tarmac and climbed up to Gight Woods. On this climb, I released that climbing with suspension forks is a bit of a bouncy experience!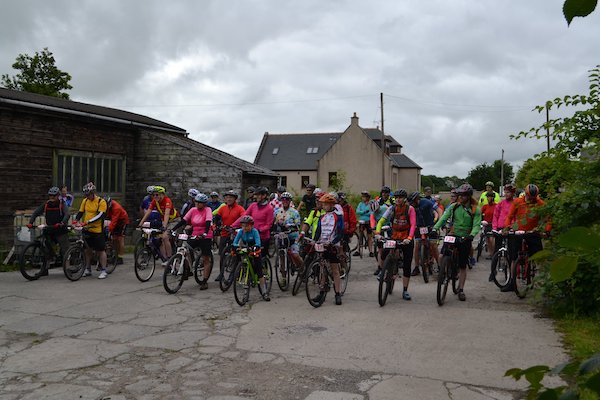 Once at the woods, we dropped down and turned onto some narrower roads towards Cairnnorrie. From there, we moved onto some gravel tracks and climbed past some wind turbines. On the gravel descent from here, I passed someone who had fallen off. I stopped to offer help, but several other riders had already stopped. It later turned out that they ended up in hospital, getting knee operated on.
From there, we approached a single-track section with a warning sign about a steep descent towards a pond! At this point I walked down to the pond, as I wasn't too confident in my bike's stopping power.
We turned onto the Formartine and Buchan Way (an old railway line) beside Auchnagatt and followed that for 10-or-so miles through Ellon to Udny. This was a fairly fast stretch of the route, and the surface was quite good with only a few puddles. There were two refreshment stops on this section as well, together with a bike mechanic for any mechanical emergencies.
Once off the old railway line, we followed mostly smaller country roads to Udny Green, and then off-road again on the Old Aberdeen Road, which is basically a grass track, into Tarves. The final part of this was a rocky descent shaded by trees. Here, I really thought I was going to come off my bike, but somehow managed to get to the bottom in one piece. From here, we passed through the centre of Tarves and onto another stretch of farm road. At this point, I became aware of a rattle somewhere on my bike. Looking down, I saw that the front quick-release has somehow come loose. Thankfully, the 'lawyer nibs' stopped a more serious problem, as that section of track was quite bumpy.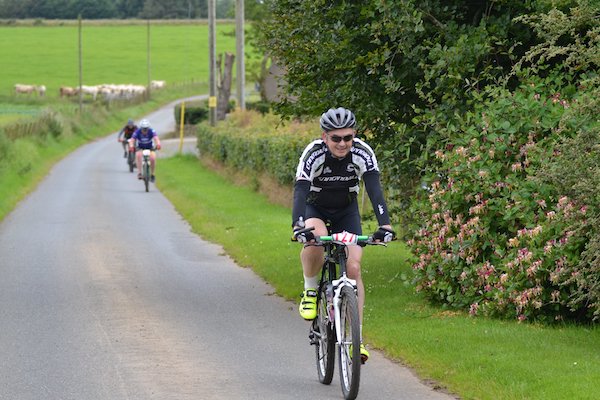 At the bottom of this descent, we crossed onto the hard-packed roads of Haddo House estate, a stately home owned by the National Trust for Scotland and home to the Marquess of Aberdeen. Once through the estate, we were back onto tarmac for the short stretch back to Methlick with a free beer and a barbeque at Laird's Cricket Ground.
All in all, a well organised event that took in some interesting routes around Methlick. Will I do it again? Definitely! On the same bike? Probably not – talking to some of the other riders over a beer later, many of them had ridden Cyclo-cross or Gravel bikes, so I'll probably go that route for next time. I'll definitely be back next year.