KoM Sportive 17th May 2014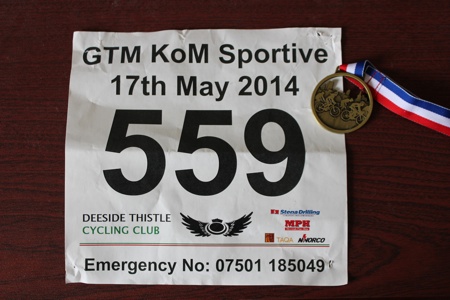 The King of the Mountain Sportive is organised by a local cycling club, Deeside Thistle. There are three options; 100 miles, 100 km or 25 miles. I took the 100 km option. This would be the furthest I'd ridden for a long time, certainly since my days of living in the Netherlands in the early '90s.
The route starts and finishes at the Grampian Transport Museum in Alford. The 100 km routes heads north-west from the town following the river Don though Towie and Strathdon before turning south to climb over to Bridge of Gairn and onto Ballater. From there, the ride heads in a mainly north-east direction back to Alford, via Muir of Dinnet, Tarland and Muir of Fowlis.
I started in the 4:30 hour target time group, although my personal target was 4 hours. I also aimed to ride the route alone, rather than in a group, since triathlon's an individual sport.
The group started at a bit of a faster pace that I would have liked, so I soon saw the leaders heading off into the distance. Since the plan was to ride this as a solo effort, this wasn't too much of a concern. The route was mostly small ups-and-downs until we turned off the main A944 and came to a climb from Towie. After this, there was a long descent, which ended with a right-hand bend. Unfortunately, one rider didn't take the bend and end up in the ditch. When I passed, there were a number of other riders helping.
Next up was the main climb from Donside over to Ballater. The climb was only about 3 kms long, rising from 336m to 556 m – I found it pretty hard and was on the absolute limit when I crossed the summit. Max HR at the top was 192 bpm (92% Max). Once over the top, the views and the descent down to Gairnshiel Bridge and onto Ballater were fantastic.
Once over the big climb of the day, the route was generally downhill back to Alford, with the exception of the sting in the tail, the climb of Queen's View at the 80 km mark. Normally, a climb of this magnitude won't be a problem, but, coming after 80 kms, it was a bit of a struggle. Thankfully, it was a steady climb without any steep bits and after that, it was downhill all the way to Alford.
Total time was 4:10:06 for 104.6 km, with 4:06:00 actual moving time. I went through the 100 km point on exactly 4 hours (4:00:25 to be precise), which was just what I'd aimed for. My place was 181 out of 351.
Fuelling: 1 x SiS Gel every 30 minutes, start at 1 hr. Caffeinated gel at 3 hrs. 2 750 ml bottles of SiS Go Energy.