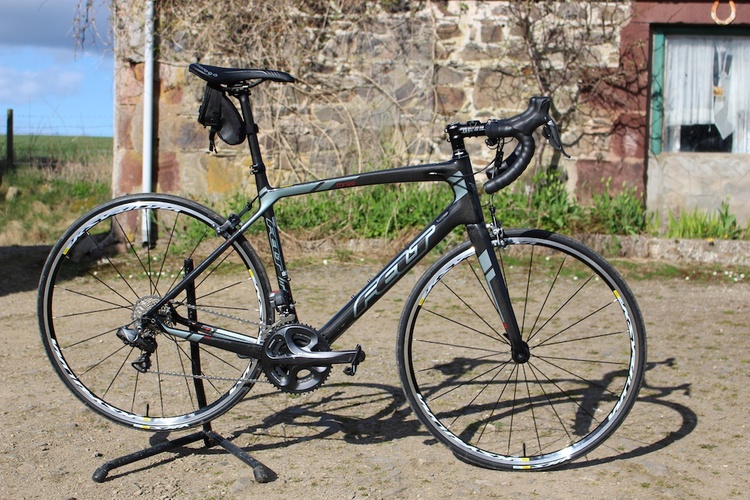 Felt Z3
I've been thinking about a new bike for quite a while now, but, with the results of February's Guru bike fit showing that my Giant TCR was too small, I bit the bullet and finally bought a new bike. I'd decided a while ago to go for Shimano Di2 on new bike, mainly for the ease of having changers on the tri-bars without having them permanently mounted.
A Cannondale Synapse was my first first choice, but I couldn't find a Di2 model for sale, other than the top-of-the-range 2014 Dura-Ace Di2 model with Disc brakes, which was a bit outside my budget. I also looked at a Felt Z3, which has the same frame stack and reach (within a mm or two) of the Synapse. Again, it looked like the 2014 models weren't available with Di2, but I managed to find a 2013 model for sale, which had full Ultegra Di2 for a reasonable price from Athlete Service Ltd in Kingston-upon-Thames.
Rob at Athlete Service was able to setup the bike in the shop to almost the exact dimensions of my bike fit, which sealed the deal for me.
I've also fitted my SRMs (Dura-Ace 7800) to the bike. This gave me some headaches fitting the cadence magnet. On my Giant TCR, I'd fitted the magnet under the cable guide below the bottom bracket. However, since the Z3 has internal cable routing (Di2 in my case), there's nothing to bolt the assembly onto. I've fitted it at the moment using double-sided foam tape, but only time will tell if this will be a permanent solution. I'd be interested in hearing from anyone who's mounted SRMs on a Z3 or any other similar carbon to see how they solved this problem.
I've yet to have my first decent ride, due to the Scottish weather last weekend, but a quick trip around the lanes near our house last week confirmed that all was working correctly and that this is an awesome bike!