1x on the Tempest – How well does it work?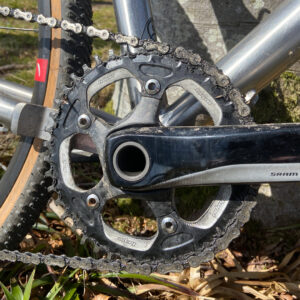 At the start of last year, I converted my Planet-X Tempest to a 1x setup. I was lucky enough to get hold of a second-hand set of Force AXS levers and disc brakes, and I paired these with an Eagle XX1 rear mech for a 'Mullet' setup. Gérard Vroomen, ex of Cervelo and now at 3TTT & Open, has a great post on SRAM AXS mullet setups here: http://blog.3t.bike/2019/09/12028/gravel-tech-hacking-sram-axs-drivetrains/.
This setup worked great for gravel biking during the summer (as limited as it was by Covid). As winter approached, I thought about getting another set of wheels and popping road tyres onto them to use the Tempest as a winter bike. With this in mind, I got hold of a set of Hunt 4-season wheels and popped some Continental tubeless tyres onto them.
Choosing a cassette was a bit more tricky. There's quite a gap in SRAM's line-up between their road and mountain bike cassettes. The road range tops out at 36 teeth while the mountain bike cassettes are 50 or 52 tooth. I also wasn't sure how well the Eagle chain would work with an AXS cassette. In the end, I went for a Rotor 11-39, giving me pretty much the same gear range as my Felt Z3 road bike, albeit missing some of the highest gears.
From a functionally point-of-view, this worked very well. I needed to make a small adjustment to the end points of the rear derailleur when swapping the wheels over, but nothing that took long, especially using AXS, where it's just a press of a button.
However, when riding on the road, I just can't get used to having only 12 gears. The gap between some of the gears is just too big to get a comfortable cadence, and I found myself jumping up and down the gears to try to get comfortable. Don't get me wrong, it's perfectible usable, and I'll stick with it for the moment, but it's not ideal for me. It has, however, put my plan for downsizing to one bike to 'Rule Them All' on hold while I rethink things – obviously, 1x isn't the way to go for that. Given how hard it is to get bike parts at the moment, that's maybe no bad thing.