New Arrival – Mavic Air 2 Drone
Back at the end of last year, I bought a DJI Mavic Air 2 drone. I've long had a love of model aircraft and the like, having piloted radio-controlled planes and boats back in the 80s & 90s with my dad. A couple of years ago, I build an FW450 drone from scratch, following this Udemy course here, but I never really managed to get it to fly successfully, and there wasn't any camera on it. I did, however, gain a really useful insight into how drones work. With that in mind, I bought the Mavic Air 2. I got the "Fly More" package, which includes two extra batteries, a case, and a couple of ND Filters.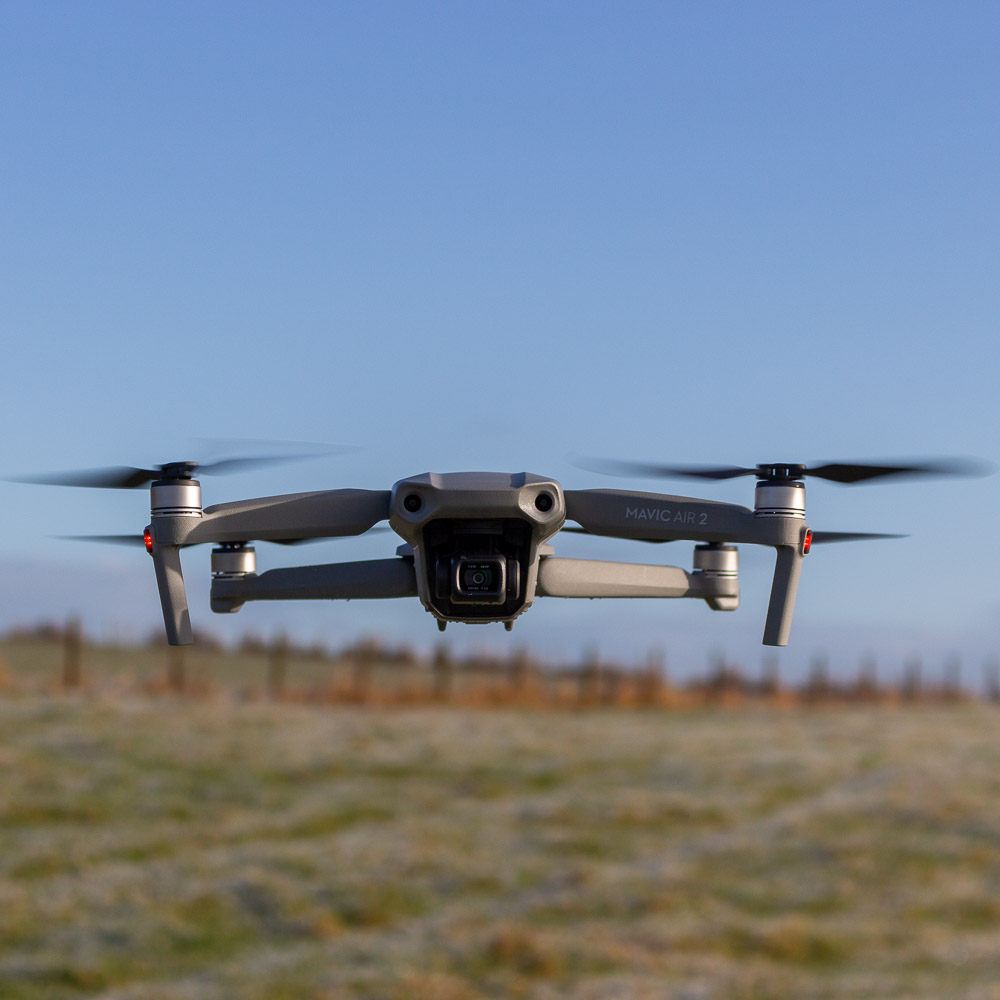 The primary reason for getting it was for photography. Having a drone lets you get a different viewpoint to ground level, and shows the subject in a way most viewers won't have seen.
The camera on it has a 1/2″ sensor at 12 MP. It's got a Quad Bayer filter which allows it to use some magic I don't really understand and produce 48 MP images. I'm not convinced that the larger images are all THAT better that the 12 MP ones, but disk space is cheap these days (the 48 MP RAW images come in at about 100 MB each, so you need plenty of it). It's also got a couple of what DJI calls 'Smart Modes' for photo, that I'll need to have a tinker about with. There's also numerous video options as well, up to 4k/60fps & 1080 120 fps.
The controller uses a smartphone (iOS or Android) mounted on top as the visual interface. You CAN fly without a smartphone (I haven't tried it), but you'd lose a lot of functionality. For instance, the phone provides a viewfinder from the drone when taking pictures or shooting video. It also provides a number of controls for video and photo formats, along with indications of the drone status, such as signal strength and GPS satellite count.
For the first few flights, I've stuck to fields beside my house. I live pretty much in the middle of nowhere, so there's not really any neighbours or busy areas to worry about. Flying it is really simple. There's a takeoff button on the screen – simply tap it, and the drone starts up and lifts to about 1.5 m off the ground and hovers. From there, the controls were pretty much as I remembered then from my RC plane days – the only change was the left-right on the left stick spins the drone around its vertical axis, rather than acting as a rudder would on the plane.
Flying it is SO completely different to my experiences with radio controlled models. In my RC planes days, a moment's inattention, and you've got a pile of broken balsa wood on the ground. With the Mavic, simply release the control sticks, and the comes to a hover in mid-air. It's also got sensors to prevent you from hitting the ground or flying too close to obstacles.
I'm currently studying for a A2 CofC certification which will let me fly in more areas than the basic UK DMARES certification allows. Hopefully, I'll have this completed before lockdown is lifted and we've got the opportunity to travel a bit more, at least within Scotland.