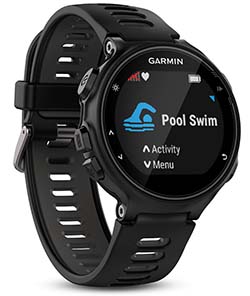 Back in January, I bought a Garmin Forerunner 735xt to replace my aging FR910xt. The 910xt is a bit bulky compared with the 735xt, and also only downloads using ANT+, which I've had a few problems with. I also wanted something to track my sleep and to use for 24hr monitoring.
Garmin IQ was also something I was quite keen on using, particularly as I'd got a Stryd running power meter which needs an IQ app to make the best of it (it can work with older Garmins by simulating the power as cadence or cycling power, but that's not ideal).
I briefly considered an Apple watch, particularly as the new hardware has better fitness features (GPS without phone, etc.), but the lack of ANT+ killed that idea.
So, after a few months of use, how is the watch?  I've been wearing it basically 24/7 since January, only removing it when showering and for charging or downloading into iSMARTtrain. It's got really good battery life, lasting weeks if just used as a watch. When used for recording activities, the battery life take a bit more of a hit.
For daily monitoring: The watch is a little bit too thick for my liking for wearing 24/7 – I find it catches on the cuff of my shirt (dress shirt) at work. However, I'm willing to live with that. It provides good feedback on resting HR – In Lanzarote, it was interesting to see how the watch's resting HR graph gradually increased as the training camp progressed, and I become more tired. The sleep monitoring is reasonably good as well, although not as through as the (now defunked) Zeo that I used to use.
For sport use, basically, it's great! I've used it for running, cycling, swimming and triathlons without much of a problem (see below, though). With the HRM-Tri and HRM-Swim straps, HR data is now provided for swimming where it wasn't previously available (the ANT+ signal from the normal Garmin straps won't penetrate far enough through the water to reach the watch). These straps get around this by recording the HR data during the swim, and then transferring it to the watch at the end of the session.
Issues: The biggest issue I've had with the 735xt is that it doesn't seem to connect to some ANT+ devices once the timer has been started. This means, for example, that in the bike leg of a triathlon, you won't get power or cadence data. I need to do a bit more research into this to see exactly what is happening here.
Also, as I stated above, the watch is a little bit too thick for my liking – however, that's the price you pay for the battery life, I suppose.
For a more detailed and thorough review, see DC Rainmaker's take on the FR735xt.